Bone graft PORESORB-TCP, grain size 1.0–2.0 mm
- Packaging: 2.4 ml/2.0 g
Grain size 1.0–2.0 mm
Fully resorbable bone regeneration material
No risk of immunological response or infection transmission More
Manufacturer: LASAKRef. No.: 42:2 15%Shipping and Payment
LASAK's fully resorbable bone graft, PORESORB-TCP, stimulates new bone formation. The material gradually dissolves and is replaced by newly formed bone tissue. The synthetic PORESORB-TCP, based on β-tricalcium phosphate, offers a valuable alternative to autologous bone. It provides a stable scaffold for new bone formation and has a human-like bone structure. It also has no risk of immunological response or infection transmission. The PORESORB-TCP granules are ready for immediate use and can be applied directly to the defect after briefly mixing them with the patient's blood, autologous bone, PRP (Platelet-Rich Plasma) or PRGF (Plasma Rich in Growth Factors). For guided bone regeneration, it is recommended to cover the defect with a barrier membrane (e.g., LASAK's collagen membrane Collagene AT®) to prevent the migration of soft tissue cells into the surface layers of the PORESORB-TCP granulate.
Results of using PORESORB-TCP for a two-stage lateral maxillary Sinus Lift were published in the "Madridge Journal of Dentistry and Oral Surgery" last year.
Sinus lift procedure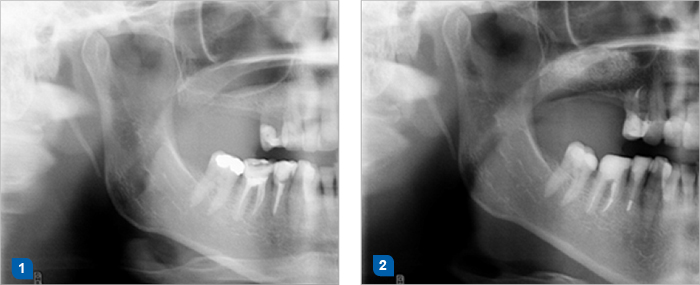 1. Situation before sinus grafting
2. PORESORB-TCP bone graft was mixed with autologous bone. Situation six months after sinus lift and before implant insertion.
(Dr. Miguel David Cevallos Lecaro, Ph.D., D.C.M. Klinik)
Indications in implantology and periodontology
• Sinus lift
• Filling of bone defects after tooth extraction to prevent alveolar atrophy
• Treatment of bone defects in the area around the implant; creation of an implant bed, including immediate or early implantation
• Augmentation of the alveolar ridge
• Treatment of periodontal bone defects, peri-implantitis
• Bone regeneration after the extirpation of cysts
The use of PORESORB-TCP in combination with the platelet concentrate (PRP) for the regeneration of periodontal and bone tissues
The regeneration of bone tissues at the place of periodontal defects depends on the presence and phenotypic expression of undifferentiated mesenchymal cells. The factors that stimulate these cells to regenerative activity can be obtained from the patient's blood platelet concentrate (PRP). The combination of LASAK's PORESORB-TCP material with platelet concentrate results in a greater yield of bone tissue. No less important is its influence on the post-operative healing of adjacent tissues. Operation scars heal much faster, which remarkably reduces the risk of post-operative infection. The use of PRP in combination with PORESORB-TCP, as a suitable micro-porous carrier, represents an accessible method for intensifying and speeding up tissue regeneration processes. 
Material properties
• Resorbability
• High phase purity
• Osteoconductivity
• High stability in defect
The structure of the material is similar to bone tissue structure. The pore sizes can be divided into two groups – macro-pores with a size of 100 mm and micro-pores with a size ranging from 1 to 5 mm. Macro-pores enable the growth of bone tissue into the center of the defect. Micro-pores support the penetration of body fluid into the material and support the adhesion of proteins and cells. The material is osseoinductive – it stimulates the evolution of mesenchymal cells into bone cells and accelerates the creation of new bone tissue. The material dissolves due to hydrolytic corrosion in the latter stages of interaction and is subsequently resorbed and replaced with new bone tissue.
Results of the clinical use of LASAK products are documented in several clinical studies.
LASAK products are CE marked.